Art at the Wharf
Clippership Wharf is dedicated to supporting and actively participating in East Boston's local arts community. On-site sculptural work and the ClipArt Gallery, a rotating exhibit that features work from our local partner, Atlantic Works Gallery, enhance everyday life.
ClipArt Gallery
In collaboration with Atlantic Works Gallery, Clippership Wharf's ClipArt Gallery is East Boston's newest contemporary art space, highlighting local artists in a rotating exhibition program. Atlantic Works Gallery is an active East Boston artist collective, dedicated to its members and their art since 2003. ClipArt Gallery is located at 65 Lewis Street and is open to the public every Saturday between 12 noon and 4 pm.
Introducing Exhibit:
Fleeting
Maryellen Cahill • Caroline Rufo • Edda Valborg Sigurdardottir • Kathy Soles
Four Massachusetts artists join together to present "fleeting" – a show of abstract paintings, monoprints, and textile works. The work in this evocative and lyrical show reflects on unrepeatable moments in the artist's life – each piece could only be created exactly as it exists one time.
An art exhibition at ClipArt Gallery, 65 Lewis Street, East Boston
April 2023 - September 2023
Outdoor Sculptures
Clippership Wharf has commissioned local artists to create two public sculptures, one in the courtyard and one along the Harborwalk, both of which honor East Boston in their own artistic way.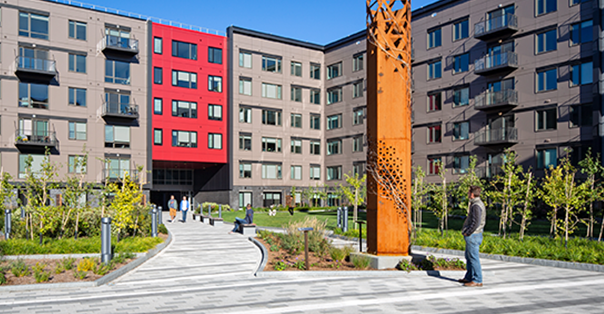 PILLAR
Pillar is a conceptual work inspired by East Boston's shipbuilding history in the late 1600s. The sculpture's overall shape and size allude to a tree worthy of the "King's Broad Arrow", a mark which reserved this precious timber for the British Crown. The three iconic strikes of the Arrow can be seen on multiple sides and are further referenced by the triangular pattern itself. The fiber optic cable running throughout the sculpture is woven in classic naval braids, referencing the era of shipbuilding that transformed both the countryside and economy of East Boston.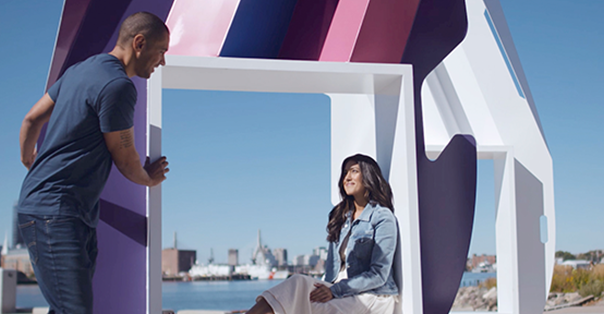 ISLANDS
Located on the Harborwalk, Islands is a sculptural work designed by local artist Volkan Alkanoglu and inspired by the historic transition of five islands (Noddle, Hogg, Apple, Bird, and Governor) into the peninsula known today as East Boston. The sculpture consists of five vertical structures, each representing one of the five islands and framing views of Boston Harbor and the downtown skyline. The artwork actively engages the public as each structure can be rotated and occupied as a seat. Come and see how the color, space, and light changes daily at the Harborwalk with Islands.
Art Events
Our dedication to the arts aims to inspire residents and encourage discovery and exploration.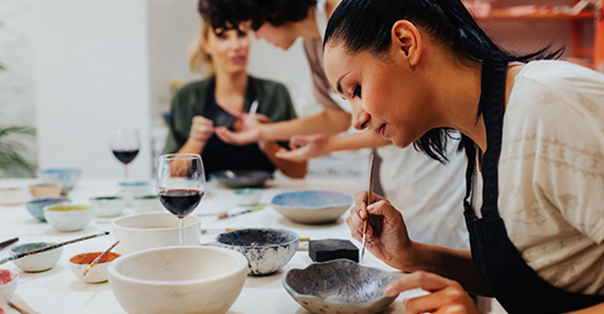 ART EVENTS
We invite local community partners to curate exclusive residents-only events offering opportunities to learn to paint, arrange flowers, or crochet and sew.